Airline travelers can understand the fear that most people feel about their luggage getting lost. Each traveler packs not only clothes, but also precious objects - perhaps a computer or other personal effects from which one would never want to be seperated. But if you happen to receive the bad news your luggage is lost, how would you react to this? Of course, you would like it to be found immediately, but unfortunately this is not always easy. The images we want to show you are proof of this.
Taken by some passengers flying out of Heathrow airport in London, the photos show an endless expanse of abandoned or lost suitcases among which the poor travellers had to search for their property. But let's see what happened and why:
Sometimes it can happen that in train stations or airports there are confusing and chaotic situations due to staff shortages, strikes or similar causes. This could lead to delays, flight cancellations and, as in this case, the loss of luggage. And this is exactly what happened in London, at Heathrow airport. Some passengers flying to the city found themselves faced with a decidedly upsetting scene.
Due to a technical problem, a huge number of unclaimed bags piled up in the corridors of Terminal 2. All the suitcases had got mixed up and it was not possible, at least initially, to divide them up by flight and city of departure.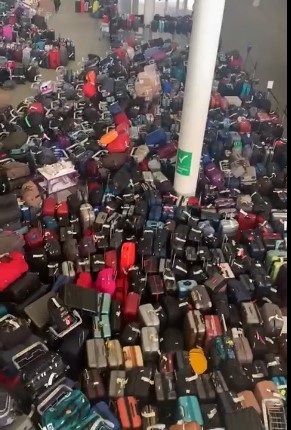 To verify what happened, there are several photos which have been taken by travelers that show the total confusion reigning supreme in the airport. "I've never seen anything like it," comments one user. Another posted to his Twitter profile a short video clip of chaos, accompanied by a sad face emoji - perhaps a depiction of what he was feeling like at the time. A comment on this post reads: "You will never get out of here".
This was a disastrous situation for which the top management of the airport apologized to all the affected passengers. Management also stated that they wanted to do everything possible and in the shortest time to get everyone their personal belongings back and to restore order to one of the world's largest and busiest airports.
It was certainly not pleasant to be confronted by a sea of bags, duffel bags, trolleys and more. But things do go wrong in life and you just have to try to keep calm as much as possible and be patient so that everything can be resolved for the better in the long run.
Has this ever happened to you? Have your bags ever got lost on a trip?