Being kind to others shouldn't be an effort - indeed it should come naturally. A little kindness never hurts, and especially in a world where terrible and horrific events happen every day, the kind words of a stranger can have an overwhelmingly positive effect.
Young Dallen Harrell works for UPS as a courier and was immortalized by the video camera installed on the front door of Jessica Roswell's home when he delivered a package one day. The 24-year-old looked into the camera and expressed his hopes that the family was well and that their newly born baby was doing fine too. The young man, it turns out, remembered that the family was expecting a baby and wanted to send the family his best wishes, saying that he too had had a son recently.
Jessica, a 35-year-old mom, saw the video from the security camera and was touched to learn that the UPS delivery man was concerned for her family. The delivery man had even remembered a sign the family had hung up the month before of a stork and that just read "It's a boy!". All this took place during the Christmas holidays, a period in which "everyone should be nicer" - just like Dallen - who, despite having to work, found a few minutes to spread some kindness.
The short video of just 26 seconds touched the hearts of over 90,000 people and Jessica made up her mind to track down the nice, young man who delivered her mail and parcels. Dallen did not expect to receive anything in exchange for his small gesture - after all he had only done something he thought to be normal and natural. But, a beautiful friendship was born out of this small event!
The thing that moved Jessaica most was that Dallen not only remembered her home, but that he also took the time to send her a video message that, in all likelyhood, nobody would ever see. However, Jessica did see the message. She was stuck at home for 3 weeks, recovering after her caesarean section, and was feeling down and very isolated. So, she was around to retrieve Dallen's message and expressed her amazement: "It was like an angel sent to me that Friday".
Jessica shared the video on her profile and expressed her gratitude to all those who, like Dallen, work every day - even in unpleasant conditions like the pandemic - and added that she would have a gift pack of diapers ready for him next time he came to the house. Many users joined in the search for this young courier because they also wanted to contribute to the cause and donate something to him too. And finally, they found him.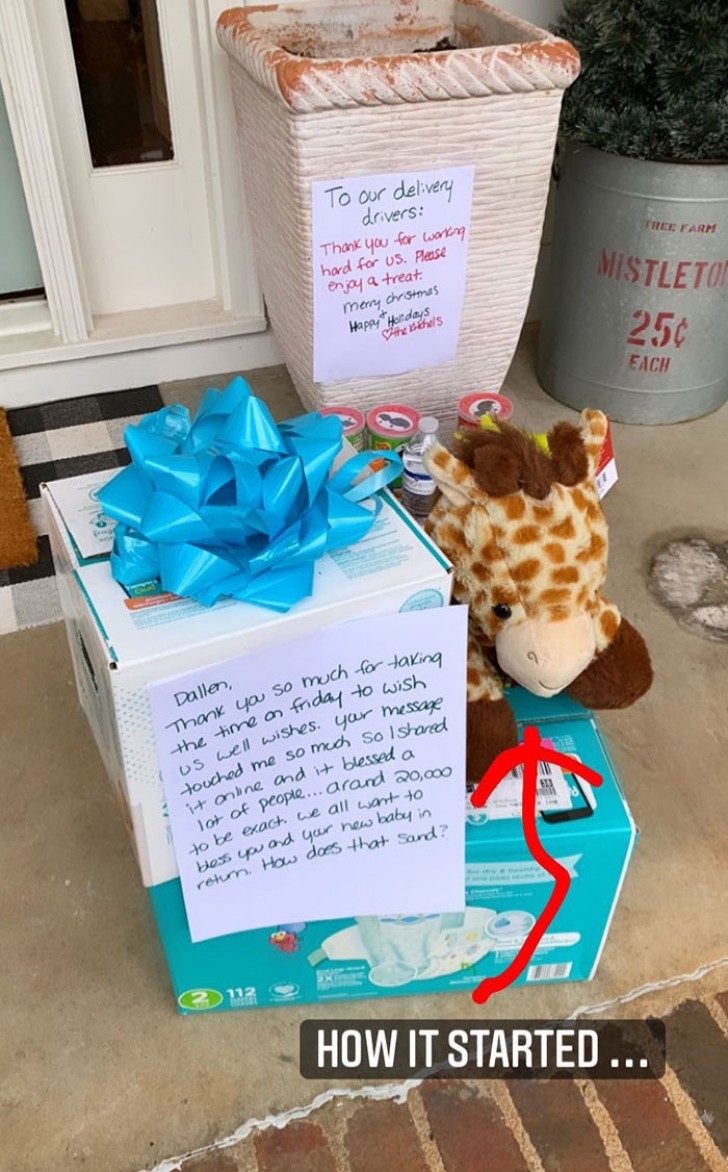 After learning that Dallen's son did not have a birthday party, Jessica put together some gift packages with diapers and baby essentials, as well as a plush toy in the shape of a giraffe. But besides Jessica, there were a lot of other people who wanted to help Dallen and who started sending him packages with diapers and other things for his baby. And the wave of positivity did not stop there: following this event, the company Dallen works for, UPS, offered the young man a permanent position as a driver.
It's amazing how a small, kind gesture can touch so many people and change so much!
Source: www.wtvideo.com