New recording that surfaced from Ryan's family revealed that Vallow discussed murdering him.

New news has emerged in the ever disturbing case of 'Cult Mom' Lori Vallow. For those of you unfamliar, this story is deep and twisted. Lori Vallow's children were reported missing since November 2019. The story of 7-year-old Tylee Ryan and her 7-year-old brother, Joshua "JJ" Vallow was bizarre and followed many twists and turns as authorities sought to uncover their whereabouts. There were doomsday beliefs, mysterious deaths of spouses, and travel back and forth between the mainland and Hawaii.
On Tuesday, June 9, 2020, the Rexburg Police Department, along with Fremont Sheriff's Office and the FBI served a search warrant on Chad Daybell's home in Fremont County. He is the husband of Lori Vallow, the mother of the missing children. JJ and Tylee were found dead on the property. The news was first disclosed to the extended family of the children before police officially confirmed the remains belonged to the missing children. Lori Vallow Daybell was arrested earlier this year and charged with counts including felony child abandonment.
In the latest of the bizarre twists, Vallow has been named as a person of interest in the death of her third husband, Joseph Ryan as she sits behind bars awaiting her trial relating to the disappearance of her children.
Ryan and Vallow were divorced in 2004 and he is the father of Tylee, one of the murdered children. Until recently it was believed that Ryan had died of an apparent heart attack. His body was not found for more than a week. Now Ryan's sister, Annie Cushing has come forward with an audio recording. Reviewed by the Post Register, who was the first to hear it, a voice allegedly of Vallow can be heard chatting. Vallow can be heard telling friends that she had considered murdering Ryan over a custody battle over Tylee. Cushing consulted with both lawyers and a law professor before releasing the audio. She said she edited the recording to remove parts of the audio that gave information about people in the recording who are not involved in the case. Cushing said she has verified the source it came from and "100%" believes it is a credible source.
"I had been married to someone who was very awful, who raped my children, and I had divorced him and gotten away from him" Vallow said.
She continues: "I was going to murder him. I was going to kill him. Like the scriptures say. Like Nephi killed. Just to stop the pain and to stop him coming after me and to stop him coming after my children. I just thought I couldn't take it anymore. And I would go through the scriptures and find all the things. Like: 'If he comes against you once, if he comes against you twice, if he comes against you three times then you can kill him.' It says it in the scriptures in the Book of Mormon. I was like there it is. There's my answer. I don't want to do anything that's wrong. I did not have a murderous heart. I just wanted to stop the bleeding and stop the pain. And so someone wise was speaking to me and said, 'You need to go to the temple.'


"So I went and met with my bishop, and I was like, 'I'm either going to turn my life to the temple or I'm going to commit murder. So do you want to give me a temple recommend?' I was perfectly honest because at that point I had nothing left to lose."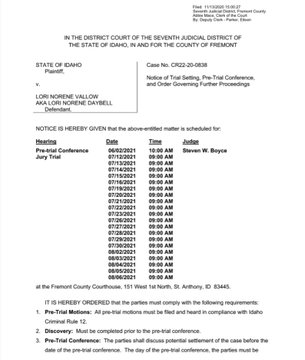 Following the release of the audio, Phoenix Police confirmed they are reviewing the investigation into Ryan's death. The review does not mean police are reopening the investigation but does not rule it out as a possibility.
Vallow and Daybell are awaiting trial on charges related to the disappearance of Tylee Ryan and JJ Vallow, whose bodies were found on Daybell's property this summer. Neither has been charged relating to the children's deaths.
Source: shared.us