When one woman's daughter discovered that her mother was suffering from dementia, a degenerative condition that robbed her of her ability to remember things, she took positive action to ease the strain on both mother and daughter.

The daughter decided to post several messages for her elderly mother on a simple white message board.
The messages she posted were meant to reassure her mother, who was often anxious and afraid due to her dementia.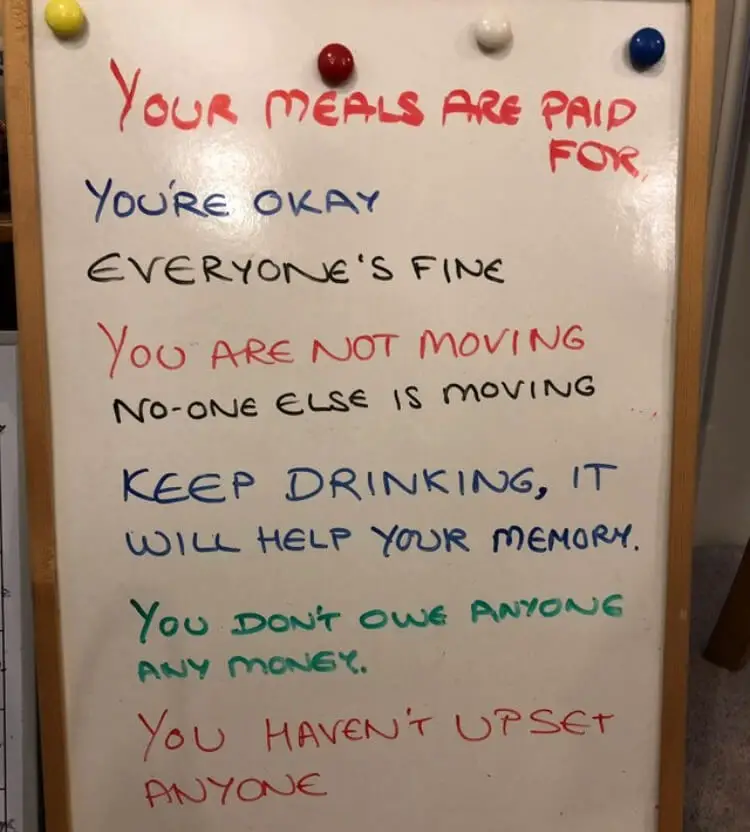 Among the reassuring notes the daughter posted were messages that "everyone's okay", "your meals are paid for", "you don't owe anyone any money" and "you haven't upset anyone."
She kept the board in mom's sitting room where she could easily see it and read over it numerous times throughout the day.
Someone who saw this board and its encouraging words anonymously posted it online, sparking many people in similar situations to not only give a thumbs up for this idea but also to share their own experiences dealing with relatives suffering from dementia and Alzheimer's Disease.
Some of the experiences that other people in similar situations were hopeful, while others were sad, demonstrating how difficult the decline of cognitive functions are, both for the elderly as well as their family members who often serve as caregivers.
Some individuals offered suggestions on other things to add to the list, including suggestions to enjoy drawing, coloring, playing music or folding laundry as an activity to fill their day.
Another suggestion was that the worried person should take a short walk in order to relax and regain their composure.
Many people whose relatives are losing their cognitive functions can get help and support from the Alzheimer's Association.
This non-profit group notes that it is essential to understand the different phases of this disease and how it progresses in order to know how to best care for the patient.
Everyone agrees that what the daughter did by posting a message board for her anxious mother was a loving gesture that helped improve communication between the two and reduce the number of anxious phone calls.
Everyone who sees her idea posted online is invited to continue to share their tips for coping with dementia and Alzheimer's in a family member to help decrease stress in daily interactions.
Source: www.relayhero.com